New Year, new look folks!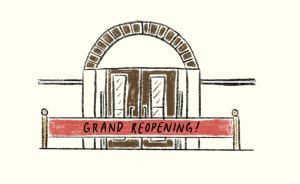 We are excited to reopen the hotel and exhibit the renovations that took place that still represents who I am as an owner.
Carrying on the idea of symbols, the changes that happened reflect that change that I have gone through during the time off. For starters, we decided to embrace the damages to the structure by highlighting the cracks and filling it in with white paint. I find that there is an importance of the past and how those experiences become a permanent reflection of who a person is presently.
An added feature to the establishment is the open feeling that is created by the many windows looking out onto the various views that surround the place. Not only does it provide for wonderful photo backgrounds, but it creates a sense of comfort that people would get when they walk through a forest or a plain meadow; a feeling of crisp air and the morning sun.
Bringing that nature inside, the place has been decorated with flowers that are contrasted by the rustic brown palette of the interior. Bouquets of chrysanthemums, baby's breathe and sword lilies are scattered throughout the hotel as an homage to my personality traits that I confidently can call myself – loyalty, love and determination.
A room that I am excited for travellers to experience is the "Our Story" room. Here guests are provided with a sticky note and a pen to which they can write everything and anything they want – their past, present, future, a goal, or for the hell of it, their phone number. Then, they are to place it on any wall, ceiling, window or floor of the room signifying that, at this point in their timeline, they stayed at the Hotel of Ambrotypes. 
From my staff and I, be sure to rate us on TripAdvisor as your input is deeply appreciated. We hope you enjoy your stay!